Play Ludo With Friends Online
Are You Using a Touchscreen Device?
This game is published as a web application, which is embedded in the page below. When you interact with the screen via touch the screen may move. We also publish this web application as a stand alone app. PLEASE CLICK HERE to use the stand alone alone app designed for touch devices.
Game Screenshots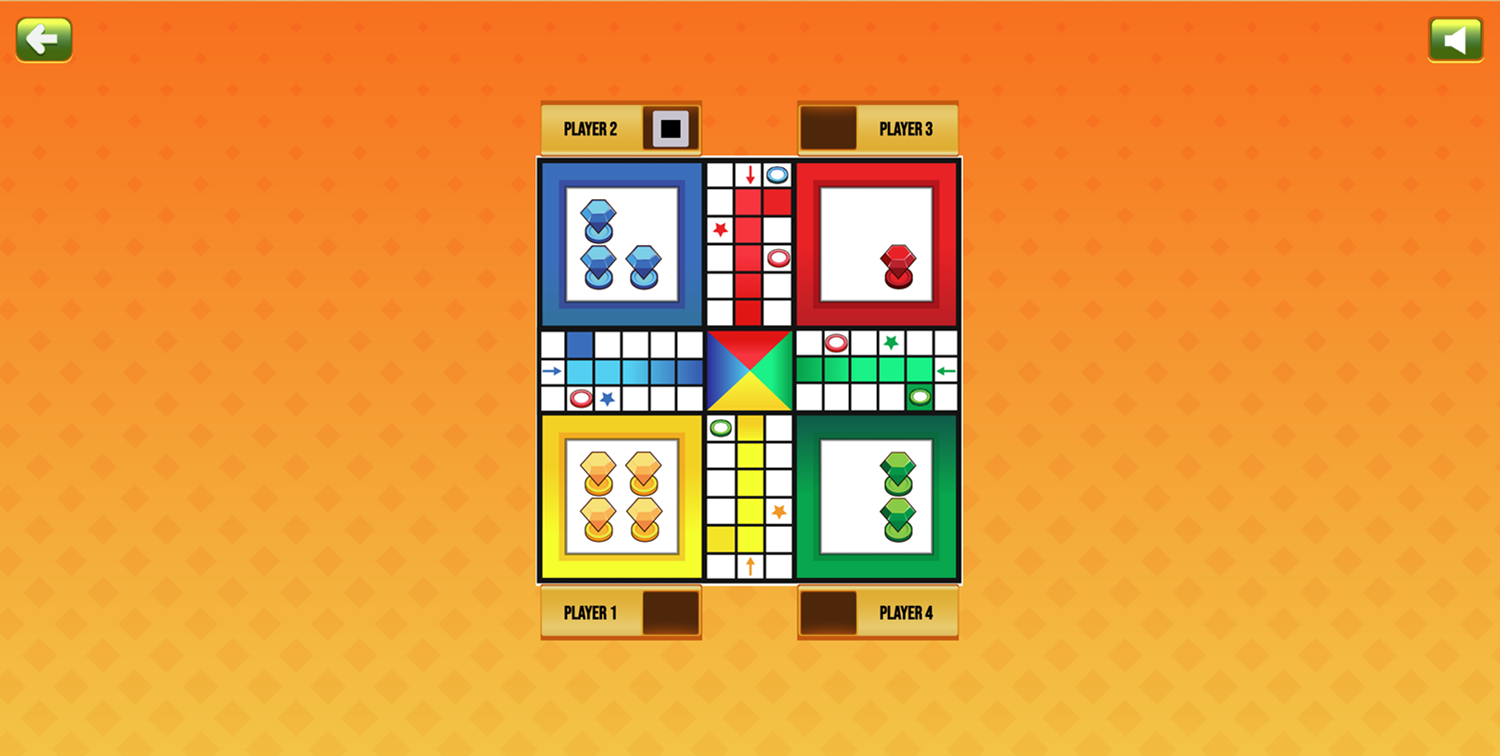 Game Description
This is a popular board game for kids where players roll dice and move their men around the playing field.
Variations of this game have been popular since Pachisi was created in India in the sixth century CE, though in western markets the most popular brand of game in this genre is called Sorry.
The first player to get all their men across the board wins.
This game mostly comes down to random chance or luck, which is part of the reason why you can play multiplayer using a single computer.
Game Technology
Almost every game in our collection was created using a game building tool named Construct. These games are rendered using JavaScript and a mobile-friendly HTML design, so they work on desktop computers, laptops like the Google Chromebook, tablets like the iPad or Amazon Kindle Fire, and mobile devices like the iPhone. You can play this game on computers powered by the Microsoft Windows operating system, the Apple OS X Mac operating system, and mobile phones like the iPhone powered by iOS or Google Android powered Samsung. Try the game in it's own window by clicking here.
How to Play
Setting Up the Game
You can play with 2 to 4 total players, using any mix of computer or human competitors against you.
Enter your name in the first player, then for any additional players you want in the game enter an optional name and set them to computer or human.
Players begin the game with the first player going first, the second next, then the third, then the fourth.
Basics
To get a man out of the starting position players must roll a six. You can use the six to remove a man from the starting position, or move one of your exiting pieces 6 places on the board. Whenever you roll a six you also get an extra roll of the dice.
Each player has 4 men which they must move a total of 56 spaces each.
If someone else lands on your men they knock you off the board and back to the starting position. You can do the same to their men.
Whenever you roll the board will highlight the placements your men can move & you can click on which of the men you want to move.
Strategy
Much of this game comes down to luck, but there are a few things you can do to try to do better than random luck.
Try to have at least 2 men on the board at any time so that you are not forced to make an inopportune play with one of them.
When you get men into the final colored area you can leave them in position anywhere in there until you roll a roll which brings them to the final home position. You are better off spending your moves moving your other men around the board rather than bringing the "almost home" men a little bit closer, because if you over-roll the amount needed to go home you can't move the men in the colored area on those rolls.
Men can be knocked off the board & sent back home if they are landed on with the following exceptions:
the starting square is protected (for both your own color and other colors you land on)
squares with a star on them are protected
the last 5 squares on the vertical run up are only reachable by your men
Move your players all the way around the playing field strategically to not let your opponents land on your men. Shadow them and wait until you get a roll that allows you to pounce on them.
You can earn an extra roll of the dice any time you:
roll a six
land on a competitor
land a piece in the final position at the end of the level
You may play this game embedded in the above iframe or click here to view it in a separate browser window by itself.
Enjoy Playing Ludo? Rate This Game
Design:

Gameplay:

Fun:

Originality:

Your Feedback Needed!
We do not have any ads in our online game arcade and we have published hundreds of games which may not work in some browser configurations. This game should work in almost any modern web browser like Google Chrome, Apple Safari, Microsoft Edge, Mozilla Firefox, Opera, Brave or Vivaldi. If you are having issues getting this game to work, please leave a comment below mentioning the problem and your software set up so we can investigate the issue.
Do You Have Feedback or Comments?
Please share your feedback about this game using the comment box below.
All feedback and commentary is moderated to ensure this remains a child friendly resource. :)
Change privacy settings