Online Drum Beats Rhyhm Game
Are You Using a Touchscreen Device?
This game is published as a web application, which is embedded in the page below. When you interact with the screen via touch the screen may move. We also publish this web application as a stand alone app. PLEASE CLICK HERE to use the stand alone alone app designed for touch devices.
Game Screenshot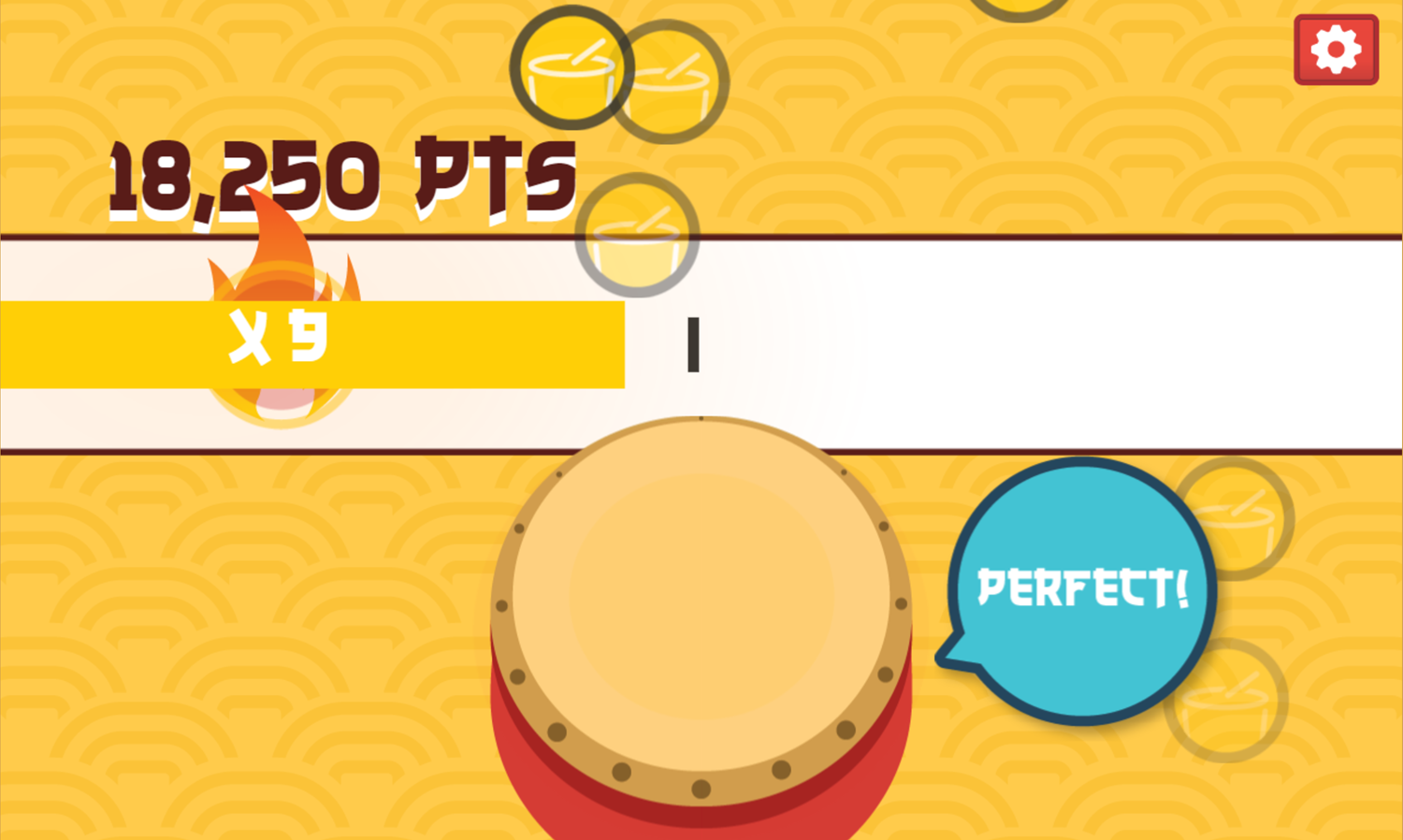 Game Description
This is a free musical game which helps students learn rhythm by playing along with vintage Japanese songs on a virtual taiko drum.
Game Technology
Almost every game in our collection was created using a game building tool named Construct. These games are rendered using JavaScript and a mobile-friendly HTML design, so they work on desktop computers, laptops like the Google Chromebook, tablets like the iPad or Amazon Kindle Fire, and mobile devices like the iPhone. You can play this game on computers powered by the Microsoft Windows operating system, the Apple OS X Mac operating system, and mobile phones like the iPhone powered by iOS or Google Android powered Samsung. Try the game in it's own window by clicking here.
How to Play
Select which song you want to play along with. As the notes near the timing marker either click on the screen or use the V B N and M keys on your keyboard to hit the left edge, left side, right side, and right edge of a virtual tako drum. When a long bar appears you can do a drum roll to score exra points.
Playable songs inclue Cherry Blossoms (Sakura), Mount Fuji (Fujji No Yama), Blacksmith of the Village (Murano Hajiya), Kitten of My Home (Uthi No Koneko), Kite Song (Tako No Uta), and Blue Eye Doll (Aoime No Nintyou). You can click either B or N to scroll through songs, or press both buttons to start the game. A tutorial button also exists at the lower right side of the homepage of the game.
You may play this game embedded in the above iframe or click here to view it in a separate browser window by itself.
Enjoy Playing Drum Beats? Rate This Game
Design:

Gameplay:

Fun:

Originality:

Your Feedback Needed!
We do not have any ads in our online game arcade and we have published hundreds of games which may not work in some browser configurations. This game should work in almost any modern web browser like Google Chrome, Apple Safari, Microsoft Edge, Mozilla Firefox, Opera, Brave or Vivaldi. If you are having issues getting this game to work, please leave a comment below mentioning the problem and your software set up so we can investigate the issue.
Do You Have Feedback or Comments?
Please share your feedback about this game using the comment box below.
All feedback and commentary is moderated to ensure this remains a child friendly resource. :)
Change privacy settings