The Teen Vaping Crisis
Hooked on JUUL: The Rise of the Teen Vaping Crisis
- Guide Authored by Corin B. Arenas, published on November 26, 2019
Youth vaping has grown rampant in recent years. With students stealthily Juuling indoors, the Walls Street Journal (WSJ) reports some schools began suspending teens and removing front restroom doors to prevent the habit.[1]
However, it doesn't seem enough. Government and health organizations are cracking down on e-cigarettes, particularly major vape company JUUL for marketing aggressively to teens.
In September 2019, NPR reported that the FDA will ban flavored e-cigarettes that appeal to the youth.[2] By November 2019, USA Today stated that New York Attorney General Letitia James filed a lawsuit against JUUL Labs Inc., alleging the company illegally promoted flavored vapes to adolescents.[3]
On top of these issues, the Centers for Disease Control and Prevention (CDC) announced a vaping epidemic this year.[4] As of November 20, 2019, there have been 2,290 cases and 47 deaths related to vaping in the U.S. Among the patients, the youngest was a 13-year-old. You can read our comprehensive feature on the health risks of e-cigarettes here.
It's unfortunate, considering cigarette use decreased from 42% in 1965, to an all-time low of 14% in 2017.[5, 6] Reduced tobacco use is undermined by the prevalence of vaping, especially among the youth.
To take a closer look into the issue, we'll rundown youth vaping statistics, including the shift from cigarette use to e-cigarettes. We'll also delve into why teens are vaping and what schools and government authorities are doing to prevent or stop the habit.
Teen Statistics: Vaping Increase and the Decline of Cigarette Use
How serious is the teen vaping problem?
According to the Washington Post, research funded by the National Institute on Drug Abuse (NIDA) found that 30% of 12th-graders in the U.S. vaped nicotine at least once in 2018.[7] In 44 years, this is the largest ever recorded increase for any substance abuse NIDA monitored for adolescent drug use.
A study from the Journal of American Medical Association (JAMA) found that 1 out of 4 students are vaping in 2019.[8] That's a great difference from 2016 reports, with only 1 out 10 students vaping.[9]
The same study states that 69% of middle school and high school students choose JUUL as their e-cigarette brand, with 29% in middle school and 45% in high school stating mint as their preferred flavor.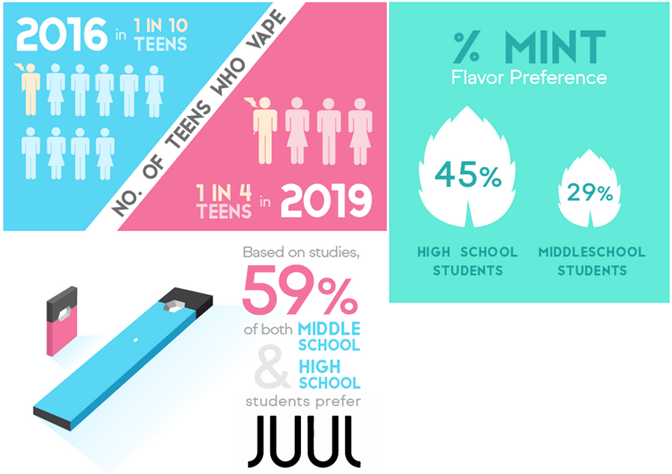 CDC Vital Signs data between 2017 and 2018 also notes how much more teens have started vaping: [10]
+1.5 million more teens are vaping in 2018 compared to 2017
4.9 million teens were current tobacco product users in 2018
+38.3% – Growth rate of teen tobacco product use from 2017 to 2018
That's just the growth rate between 2017 and 2018. If we analyze statistics from the National Youth Tobacco Survey 2011-2019 published by the Food and Drug Administration (FDA), vaping among high school students rapidly increased between 2017 to 2019.
Vaping began at only 1.5% among high school students in 2011. It rose every year but decreased from 16% in 2015 down to 11.3% in 2016. By 2017, it only slightly increased to 11.7%. See the table from the FDA below.[11]
| Year | Current Vape Use by U.S. High School Student |
| --- | --- |
| 2011 | 1.5% |
| 2012 | 2.8% |
| 2013 | 4.5% |
| 2014 | 13.4% |
| 2015 | 16.0% |
| 2016 | 11.3% |
| 2017 | 11.7% |
| 2018 | 20.8% |
| 2019 | 27.5% |
TobaccoFreeKids.org states that JUUL e-cigarettes were introduced in 2015, which eventually fueled the current youth vaping epidemic.[12]
Following the popularity of JUUL, vape use among high school students grew from 11.7% in 2017 to a startling 20.8% in 2018. Consequently, the significant increase urged the FDA Commissioner and U.S. Surgeon General to announce aggressive action against youth vaping. But even then, more teens are still using e-cigarettes in 2019 at 27.5%.
JUUL Targeting the Youth
Year
JUUL Marketing Moves
June 2015
JUUL began marketing e-cigarettes, the launch party was held in New York.
June 2015
Used models portraying party culture, made sure they were age 21 and up
Late 2016/
January 2017
In response to criticisms, they decide to use models aged 35 and up to make campaigns more age-appropriate.
June 2018
The company change its policy again, this time using real people who switched from smoking cigarettes to using JUUL.
November 2018
JUUL shut down its Facebook and Instagram accounts to counteract rampant teen vaping.
November 2018
Researchers found that a quarter of JUUL's Twitter followers appear to be under 18.
December 2018
JUUL announced it will stop selling flavored e-cigarettes to over 90,000 stores.
With regard to JUUL's questionable marketing, the New York Times reported that the company only decided to use models over the age of 35 by late 2016 or January 2017 to make it age-appropriate.[13]
While the original campaign did not target teens, a former senior manager from JUUL acknowledged they were aware it could appeal to the youth. Although the company made sure to hire models aged 21 and above, portraying them in party culture, socializing with a fresh and hip crowd, certainly appealed to the youth.
In June 2018, JUUL changed its policy to use real people who switched from smoking cigarettes to JUUL. Furthermore, to address critics, they changed e-juice flavor names from the likes of 'crème brûlée' to 'crème' and 'cool cucumber' to just 'cucumber.'
Around November 2018, Vice reported that JUUL shut down it's Instagram and Facebook accounts in an attempt to counteract teen vaping.[14] But around this time, the brand has obviously become ingrained in teen and high school culture. The report also states researchers found that at least a quarter of JUUL's Twitter followers appeared to be under the age of 18.
By December 2018, USA Today reported that JUUL stopped selling e-cigarette flavors such as fruit, mango, creme and cucumber in over 90,000 retail stores.[15] They also started requiring age verification for online sales to customers aged 21 and above. However, these changes seemed to come too late.
Reversal from Cigarette Use to Vaping
Prior to the prevalence of vapes, cigarette use has been steadily decreasing in the past 20 years among the youth. JUUL has positioned itself as a less harmful alternative to smoking, which likely adds to why vaping has become more common than cigarettes in recent years.[16]
Every 2 years from 1991 to 2009, the CDC studied statistical data from the national Youth Risk Behavior Survey (YRBS), examining trends in cigarette use among U.S. high school students. We recorded current cigarette use of high school students and analyzed how the rates went down through the years.
To illustrate the decline of cigarette smoking among high school students from 1997-2019, we combined CDCs data from 1997-2009 with statistics from the 2000-2017 National Youth Tobacco Survey and the 2019 National Youth Tobacco Survey. See the table below.[17, 18, 19]
| Year | Current Cigarette Use by U.S. High School Students |
| --- | --- |
| 1997 | 36.4% |
| 1999 | 34.8% |
| 2001 | 28.5% |
| 2003 | 21.9% |
| 2005 | 23.0% |
| 2007 | 20.0% |
| 2009 | 19.5%  |
| 2011 | 15.8% |
| 2013 | 12.7% |
| 2015 | 9.3% |
| 2016 | 8.0% |
| 2017 | 7.6% |
| 2019 | 5.8% |
From the data, smoking rates among high school students went from 36.4% in 1997 to a record low of 5.8% in 2019. From 2009 onward, we can observe a greater decrease in cigarette use among the youth. For instance, smoking rates went down by almost 4% between 2009 (19.5%) and 2011 (15.8%), as well as in the succeeding years.
The CDC attributes this reduction in part to the Family Smoking Prevention and Tobacco Control Act legislated in 2009.[20] The bill extends the FDA's authority over the labeling, marketing and advertising methods of tobacco companies. As a result, broad-scale tobacco control is implemented, firmly restricting youth access and preventing attractive promotions to teens.
Similarly, laws like the Tobacco Control Act must be rigorously implemented to control how vapes are marketed. Following this rational, it makes sense for government regulators to reprimand JUUL for slyly promoting to teens.[21]
Finally, if we plot in current high school cigarette use from 1997-2019, together with current vape use between 2011-2019, we'll see how the two trends cross. The graph below shows how cigarette use among teens has been eclipsed by vaping.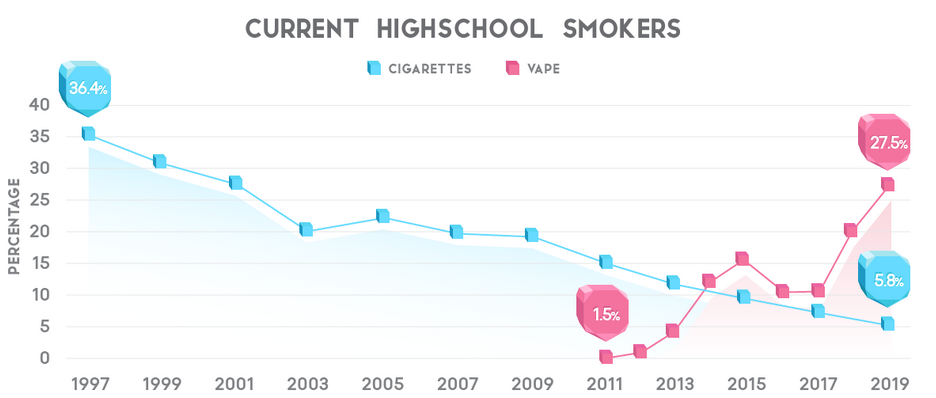 Why Are Teens Vaping?
When teens are asked why they vape, many reasons come into play. These factors usually include peer pressure, stress in school and even seeing relatives and friends who use e-cigarettes.
To quantify these factors, researchers published a 2016 study which surveys the common reasons why middle school and high school students use e-cigarettes. According to the CDC, the following are the most frequently cited reasons for vaping: [22]
| High School and Middle School Students Reasons for Vaping, 2016 | Percent |
| --- | --- |
| Friend or family member used vapes | 39% |
| Vapes available in flavors such as mint, candy, fruit, or chocolate | 31% |
| Vapes are less harmful than other forms of tobacco such as cigarettes | 17% |
| Vapes are easier to get than other tobacco products such as cigarettes | 5% |
| Vapes cost less than other tobacco products such as cigarettes | 3% |
| Famous people on TV or in movies use vapes | 2% |
Among middle school and high school students in the U.S. who have used vapes, the most commonly cited reason was 1) a friend or family member used them, followed by 2) vapes available in flavors, such as mint, candy, fruit, or chocolate, and the idea that vapes are 3) less harmful than other forms of tobacco, such as cigarettes.
These top 3 factors are important in encouraging the youth to try vaping, making it more acceptable in their environment. Researchers also note that the availability of flavors is consistent with past studies which also found that flavors are a frequently cited reason for teens who use e-cigarettes.
Apart from this survey, let's hear what some teens have to say about vaping.
In an October 2019 article in WSJ, Cole Fischer, a 17-year-old senior from Phoenix Learning Center talks about why teens are vaping despite the alarming news of lung injuries. He states:
Your friends do it, so why would you be that one person who doesn't do it?… A lot of people are like it's not going to happen to me.
On the other hand, 17-year-old Nicole Odeen from Buffalo High school expresses her apprehensions about e-cigarettes. She states:
I think it was supposed to be a healthier alternative to smoking cigarettes. That's like not the case anymore.
In an earlier article, USA Today published a feature interviewing college students below 21 years old in 2018.[15] Cassandra Cini, then a 19-year-old in Keene State College, stated that she began vaping because her boyfriend had a JUUL, which was popular among students. She also mentioned how a lot of college students regard vaping as a 'fun thing to do' with friends. Cini states:
In college, a lot of people have them. When we go out people will share them… I think cigarettes are super gross, but vaping seems cleaner almost. You don't think of them like cigarettes."
In the same feature, then 19-year-old Leia Dyste from the Northern Arizona University, mentioned she vapes as a form of anxiety relief. Considering how school can get stressful, young people turn to vapes to help them relax. Dyste states:
The act itself of smoking is not a crutch, but something I rely on to ease anxiety, and vaping is an easy way to do that… For those who do smoke cigarettes, or have in the past, it's like a healthier alternative even if we don't know everything about all of the risks yet.
These are just a few sentiments from the youth. From these interviews, even with warning from public health officials, it shows how pervasive e-cigarettes are, almost normal around young people's social settings. Teens do not seem as cautious about their health as adults, which may be why they keep vaping even after knowing the risks.
Parents Against Teen Vaping
For parents struggling with children who vape, the good news is there are organizations and platforms you can go to for resources on how to stop vaping. You can visit sites like TobaccoFreeKids.org, TruthInitiative.org and Lung.org, among others.
Another such organization mainly focused on vapes is Parents Against Vaping E-Cigarettes (PAVe).[23] This grassroots response group was founded in the spring of 2018 by three mothers, Dina Alessi, Meredith Berkman, and Dorian Fuhrman, after learning all their teen sons were vaping with friends.
In an August 2019 Yahoo Lifestyle interview with co-founder Dorian Furnham, she talks about how she found out her son was vaping.[24] Furnham mentioned how teens are so moody it's such a difficult time for them. But vaping was different. Her son had a quick temper, couldn't sleep and had terrible night sweats.
Furnham was alarmed, most of all, when she learned a JUUL representative had given a talk to students without parents or the school administrators' knowledge. In the interview, her son shared what the representative discussed. "And he said [the teens] shouldn't be worried about it because it would soon get FDA approval," Dorian said. Shortly after this incident, she helped found PAVe.
Since 2018, PAVe has been actively rallying against the sale of e-cigarettes targeting minors.[25] Their members have also testified before congress in October 2019 to show how vapes are a real threat not just to teens but to public health.
Pushing for Earlier FDA Vape Regulations
Even if vapes are considered 'less risky,' it's better to not start at all. There are no long-term studies that prove vaping can cause cancer and other chronic diseases yet, but only time can tell.
Furthermore, a 2018 report from the National Academies of Sciences, Engineering and Medicine shows that consumers clearly cannot determine differences between a variety of vape products and how harmful they really are.
For instance, an October 2019 article in People notes how Lindsy Hatfield, a program director for First Choice Services, observed how people trying to quit vaping were not aware how harmful it was.[26] She states:
"Some people we found did not know that Juul was an e-cigarette, vape or nicotine device… They felt that Juul did not have nicotine in it, and so it couldn't be the same thing" [as an e-cigarette]."
Because of this, anti-tobacco and vaping organization Truth Initiative is gravely concerned with the FDA's decision to postpone full regulation of e-cigarettes until 2022.[27]
The earlier the FDA reviews e-cigarette products, the sooner the public will be informed which brands contain lower nicotine with fewer harmful substances.
The Bottom Line
Prior to the rise of youth vaping, cigarette smoking has been steadily declining in the past 20 years. However, it is undermined by rampant underage vaping. In 2018, vaping was announced by public health officials as a 'teen epidemic' following the alarming rise in e-cigarette use between 2017 and 2018.
JUUL Labs Inc. is under fire for questionable marketing strategies that targeted teens. After criticism from regulators, they halted sales for flavored vapes in thousands of stores. Consequently, parents and anti-vaping organizations are continuing to fight opportunistic e-cigarette companies and urging teens to quit.
To date, the FDA has yet to fully regulate e-cigarette products, which is scheduled on 2022.
With recent news publicizing the dangers of e-cigarettes, more teens are starting to quit. For more information on how to stop vaping, read our guide.
About The Author
Working as a health writer since 2016, Corin is interested in longevity research and how to improve the quality of human life. She holds a Master's degree in Creative Writing from the University of the Philippines, one of the top academic institutions in the world, and a Bachelor's in Communication Arts from Miriam College. Her other feature articles can be read on Inquirer.net and Manileno.com.
References